Next Mission: Running Out Of Fingers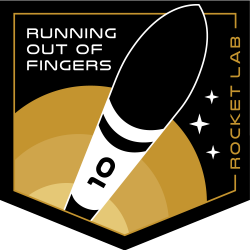 Mission Name

Running Out Of Fingers

Rocket

Electron

Electron Name

Running Out Of Fingers
Launch Window

28 November - 12 December NZDT

Launch Time

07:56 - 09:22 UTC (20:56 - 22:22 NZDT)

Launch Site

Launch Complex 1
Mission Overview
The launch window for Rocket Lab's tenth mission, 'Running Out Of Fingers,' is scheduled to open on 28 November 2019 NZDT from Rocket Lab's Launch Complex 1 on New Zealand's Māhia Peninsula.
Onboard this rideshare mission are six spacecraft comprised of 5cm PocketQube microsatellites from satellite manufacturer and mission management provider Alba Orbital. The final payload on board was procured by satellite rideshare and mission management provider Spaceflight for ALE Co., Ltd (ALE), a Tokyo-based company creating microsatellites that simulate meteor particles.  
'Running Out Of Fingers' will also include the first guided, full telemetry re-entry of the Electron launch vehicle's first stage as part of Rocket Lab's plans to re-use and re-fly rocket boosters in future missions. Recovery instrumentation onboard this flight will include guidance and navigation hardware, including S-band telemetry and onboard flight computer systems, to live-gather data during the first stage's atmospheric re-entry, as well as a reaction control system to orient the booster.
Viewing A Launch
Viewing a launch in person:
Wairoa District Council has allocated a rocket launch viewing area for the public near Nuhaka, accessible via Blucks Pit Road. Visit www. visitwairoa.co.nz/welcome-to-wairoa/space-coast-new-zealand/ for more information. Scrubs and postponements are likely during launch windows, so visitors to the Blucks Pit viewing site should anticipate multiple postponements, sometimes across several days.
Livestream:
The best way to view a launch is via Rocket Lab's live video webcast. This offers the best views of launch and includes helpful commentary about the launch process. A livestream will be made available approximately 15 - 20 minutes prior to a launch attempt. Rocket Lab will post links to the webcast when live via Facebook and Twitter. The livestream is viewable at www.rocketlabusa.com/live-stream and Rocket Lab's YouTube channel.