Separation
Systems
Advanced, lightweight hardware
with 100% mission success
Planetary Systems Corp (PSC) has delivered hundreds of satellite separation systems with 100% mission success for over 20 years.
Since 1998, PSC's Lightband Separation Systems have enabled customers to lower their mission costs and streamline payload integration time from days to just minutes.
Our Advanced Lightband is the next generation in space vehicle separation systems. Increasing performance and decreasing lead time.
PSC's fully-encapsulated Canisterized Satellite Dispensers (CSD) that provides a reliable and cost-effective housing for CubeSat payloads, that minimizes damage risk and eliminates the necessity for heavy or complicated interface structures between satellite and launch vehicle.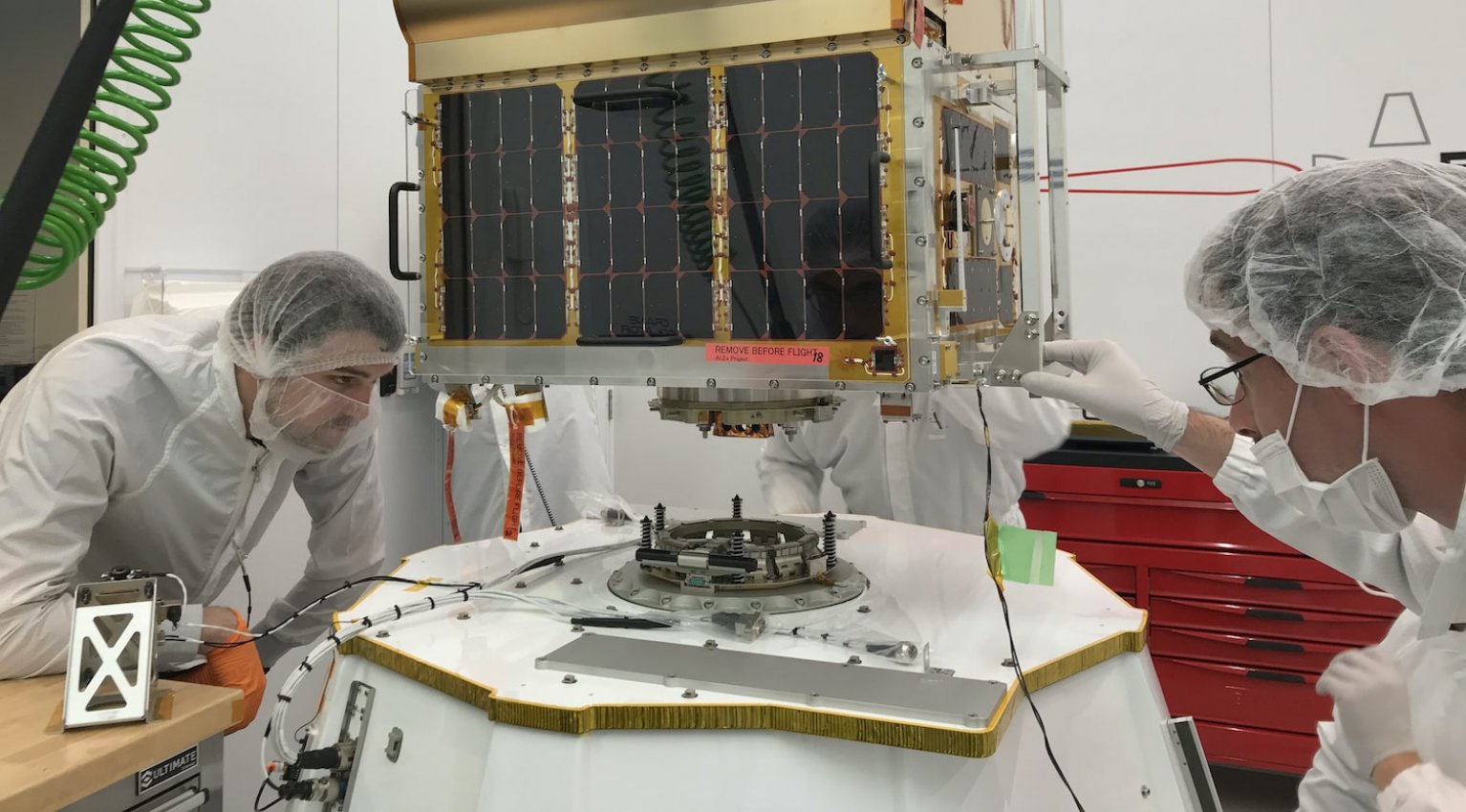 The PSC Engineering Philosophy
"We build the best separation systems because we don't compromise on proving reliability. Ours is a history of innovation followed by intense and rewarding engineering to prove reliability. By this method, we contribute our best work."
Flight Heritage
PSC & Rocket Lab have designed, built, and delivered separation systems for the following missions. PSC products have a 100% success rate - no product has ever failed to operate in flight.
*Launch vehicle failed. PSC counts this event as a unit built but not a mission success.
Transporter-4

(Launch April 2022)
Lynk Tower 01

Transporter-4

(Launch April 2022)
PlanetIQ - GNOMES-3

Transporter-4

(Launch April 2022)
D-Orbit

Transporter-4

(Launch April 2022)
Utias - Hawkeye 4A, 4B, 4C

Without Mission a Beat

(Launch April 2022)
BlackSky Global Z1 & Z2

Electron Launch Vehicle

Cygnus NG-17

(Launch February 2022)
NASA, Northrup Grumman

Tenacious3

(Launch January 2022)
NGC, Space Force

Transporter-3

(Launch January 2022)
D-Orbit ION

Transporter-3

(Launch January 2022)
Umbra

Transporter-3

(Launch January 2022)
ISISpace/L

Transporter-3

(Launch January 2022)
Capella

Blacksky Global 16 & 17

(Launch December 2021)
Blacksky, Spaceflight

Electron Launch Vehicle

BlackSky Global 12 & 13

(Launch December 2021
Blacksky, Spaceflight

Blacksky Global 14 & 15

Launch November 2021)
Blacksky, Spaceflight

Electron Launch Vehicle

CE-SAT-2B

(Launch October 2021)
Spaceflight

Electron Launch Vehicle

CuPID, CUTE, AFRL, MDA

(Launch September 2021)
Boston University, NASA, AFRL, MDA

Monolith

(Launch July 2021)
USSF Space Test Program, SDL

Electron Launch Vehicle

Transporter-2

(Launch June 2021)
Spaceflight Sherpa-FX2

Transporter-2

(Launch June 2021)
Spaceflight Sherpa-LTE1

Transporter-2

(Launch June 2021)
D-Orbit ION

Transporter-2

(Launch June 2021)
HawkEye 360 - Cluster 3

Transporter-2

(Launch June 2021)>br>Loft Orbital - Yam-2

Transporter-2

(Launch June 2021)
Orbit Fab by AstroDigital - Tenzing

Transporter-2

(Launch June 2021)
DARPA/SDA/AFRL Mandrake-2 Able

Transporter-2

(Launch June 2021)
DARPA/SDA/AFRL Mandrake-2 Baker

Transporter-2

(Launch June 2021)
Umbra-SAR 2001

Transporter-2

(Launch June 2021)
PlanetIQ - GNOMES-2

Transporter-2

Launch June 2021)
Orbital Sidekick - Aurora

Transporter-2

(Launch June 2021)
Lynk-06

Transporter-2

(Launch June 2021)
NASA - Tropics pathfinder

Transporter-2

(Launch June 2021)
GA - LINCS-2

Transporter-2

(Launch June 2021)
GA - LINCS-1

Co-manifested with SBIRS

(Launch May 2021)

Capella

(Launch May 2021)
Capella

BlackSky Global 10 & 11*

(Launch May 2021
Spaceflight

Electron Launch Vehicle

BlackSky Global 9

(Launch March 2021)
Spaceflight

Electron Launch Vehicle

RAAF M2

(Launch March 2021)
NTK

Electron Launch Vehicle

ELSA-d

(Launch March 2021)
NTK Astroscale

Amazônia-1

(Launch February 2021)
Spaceflight

Launch Demo 2

(Launch February 2021)
Virgin Orbit

Cygnus NG-15

(Launch February 2021)
NASA, Northrup Grumman

Transporter-1

(Launch January 2021)
Spaceflight

Transporter-1

(Launch January 2021)>
Spaceflight

QPS SAR-1

(Launch December 2019)
Spaceflight

ALE-2

(Launch December 2019)
Spaceflight

Cygnus NG-12

(Launch November 2019)
NASA Northrup Grumman

BlackSky Global 4

(Launch August 2019)
Spaceflight

Electron Launch Vehicle

Pearl White 1 and 2

(Launch August 2019)
Air Force Space Command

Electron Launch Vehicle

TDO

(Launch August 2019)
SMC

BlackSky Global 3

(Launch June 2019)
Spaceflight

Electron Launch Vehicle

STP-2

(Launch June 2019)
SMC

SPARC-1

(Launch May 2019)
AFRL

Electron Launch Vehicle

Thinsats

(Launch April 2019)
Twiggs Space Lab NearSpace Launch, Inc

Cygnus NG-11

(Launch April 2019)
NASA Northrup Grumman

R3D2

(Launch March 2019)
Blue Canyon Technologies

Electron Launch Vehicle

Beresheet Lunar Lander, S5

(Launch February 2019)
Spaceflight Industries

(Launch January 2019) IHI Aerospace

RSat-P

(Launch December 2018)
USNA Rocketlab

Electron Launch Vehicle

SSO-A

(Launch December 2018)
Spaceflight Industries

SSO-A

(Launch December 2018)
Spaceflight Industries

HSAT-1

(Launch November 2018)
Harris Corp Spaceflight Industries

BlackSky Global 1

(Launch November 2018)
Spaceflight

Cygnus NG-10

(Launch November 2018)
NASA Northrup Grumman

Orb-CRS 9

(Launch May 2018)
NASA Orbital ATK

ICEYE-X1

(Launch January 2018)
ICEYE Space Flight Industries

Orb-CRS 8

(Launch December 2017)
NASA Orbital ATK

SkySat Gen2 8-13

(Launch October 2017)
Planet Orbital ATK

ORS-5 (SensorSat)

(Launch August 2017)

ROSA

(Launch June 2017)
MEIT NASA

Orb-CRS 7

(Launch April 2017)
NASA Orbital ATK

Orb-CRS 5

(Launch October 2016)
NASA Orbital ATK

Pathfinder 1

(Launch September 2016)
Black Sky Spaceflight Industries

SkySat 4-7

(Launch September 2016)
Google Terra Bella

SkySat Gen2-1

(Launch June 2016)
Google Terra Bella

Orb-CRS 6

(Launch June 2016)
NASA Orbital ATK

Orb-CRS 4

(Launch December 2015)
NASA Orbital ATK

ORS-4

(Launch November 2015)
ORS HSFL

ORS-4

(Launch November 2015)
ORS

Orb-CRS 3*

(Launch October 2014)
NASA Orbital

Orb-CRS 2

(Launch July 2014)
NASA Orbital

Orb-CRS 1

(Launch January 2014)
NASA Orbital

STPSat 3

(Launch December 2013)
ORS Ball Aerospace Orbital

POPACS

(Launch December 2013)
SpaceX

Dande, CU Sat

(Launch December 2013)
SpaceX NASA

Orb-CRS D1

(Launch December 2013)
NASA Orbital

LADEE

(Launch December 2013)
NASA Orbital

TacSat-4

(Launch December 2011)
NRL ORS Orbital

GRAIL

(Launch December 2011)
NASA Lockheed ULA

ORS-1

(Launch December 2011)
ORS Goodrich Orbital

STP-S26

(Launch December 2010)
STP Orbital Ball AFRL

CAPE/ICU-II (ANDE-2)

(Launch December 2009)
STP MEI NRL Oceaneering

RazakSAT

(Launch December 2009)
SpaceX

TacSat-3

(Launch December 2009)
AFRL Orbital ATK

IBEX

(Launch December 2008)
Orbital SWRI NASA

Jumpstart*

(Launch December 2008)
SpaceX AFRL SpaceDev ORS

Demo-Flight-2*

(Launch December 2007)
SpaceX DARPA

STP-1

(Launch December 2007)
Boeing USAF LANL AeroAstro SSTL

CAPE/ICU-I (ANDE-1)

(Launch December 2006)
STP MEI NRL Oceaneering

TacSat-2

(Launch December 2006)


MITEX

(Launch December 2006)
OSC Lockheed NRL Boeing

XSS-11

(Launch December 2005)
Lockheed AFRL Orbital

Nanosat-2*

(Launch December 2004)
Boeing AFRL

Starshine-3

(Launch December 2001)
NRL Lockheed NASA