Next Mission: The Owl Spreads Its Wings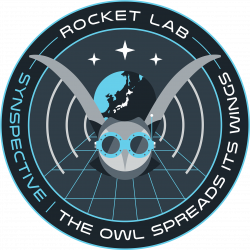 Mission Name

The Owl Spreads Its Wings

Rocket

Electron

Electron Name

The Owl Spreads Its Wings
Launch Window

September 2022

Launch Time

TBC

Launch Site

Rocket Lab Launch Complex 1
Mission Overview
"The Owl Spreads Its Wings" mission is scheduled to lift-off from Pad B at Rocket Lab Launch Complex 1 in New Zealand during a launch window opening in mid-September. The mission is the second of a bulk buy of three Electron launches by Synspective to deliver their StriX satellites to low Earth orbit. StriX-1 is Synspective's first commercial satellite for its synthetic aperture radar (SAR) satellite constellation to deliver imagery that can detect millimeter-level changes to the Earth's surface from space, independent of weather conditions on Earth and at any time of the day or night. "The Owl Spreads Its Wings" will be Rocket Lab's third mission for Synspective after successful launches in December 2020 and February 2022.
The mission for Synspective will mark a series of company milestones for Rocket Lab: its 30th Electron launch, its 300th Rutherford engine, and the single StriX-1 satellite manifested on this Electron launch will bring Rocket Lab's tally of satellites delivered to orbit to 150 – a quarter of those delivered to space in the past three months alone, including the CAPSTONE satellite to the Moon for NASA and spacecraft conducting Earth-imaging, technology demonstrations, marine monitoring, space junk removal tests, and internet connectivity.
Contact
For launch safety information: 0800 110 623.
Marine vessels can also reach Rocket Lab Range Control on VHF Channel 7 or Channel 16. VHF Channel 79 broadcasts up-to-date information 24/7 on the status of the Marine Safety Zone.