Antipodean Adventure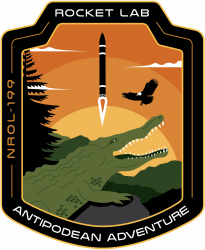 Mission Name

Antipodean Adventure

Rocket

Electron

Electron Name

Electron
Launch Date

4 August 2022

Launch Time

05:00 UTC

Launch Site

Launch Complex 1
Mission Overview
Antipodean Adventure (NROL-199) was the second of two back-to-back Electron missions for the National Reconnaissance Office (NRO). The first mission, Wise One Looks Ahead (NROL-162) successfully lifted-off from Launch Complex 1 on July 13, 2022. 
The NROL-199 mission carried a national security payload designed, built, and operated by the National Reconnaissance Office in partnership with the Australian Department of Defence as part of a broad range of cooperative satellite activities with Australia. The payload will support the NRO to provide critical information to government agencies and decision makers monitoring international issues.
Both NROL-199 and NROL-162 missions were a demonstration of responsive launch under NRO's Rapid Acquisition of a Small Rocket (RASR) contract for launching small satellite through a streamlined, commercial approach, and are the third and fourth missions contracted to Rocket Lab by the NRO under the contract. NROL-151 (RASR-1) was successfully deployed to space on a dedicated Electron launch in early 2020, followed by RASR-2 on another Electron launch in June 2020.
Press Kit
Launch Updates
For real time launch updates, follow Rocket Lab on Twitter and Facebook.