Rocket Lab Inks New Deal to Launch HASTE Mission from Virginia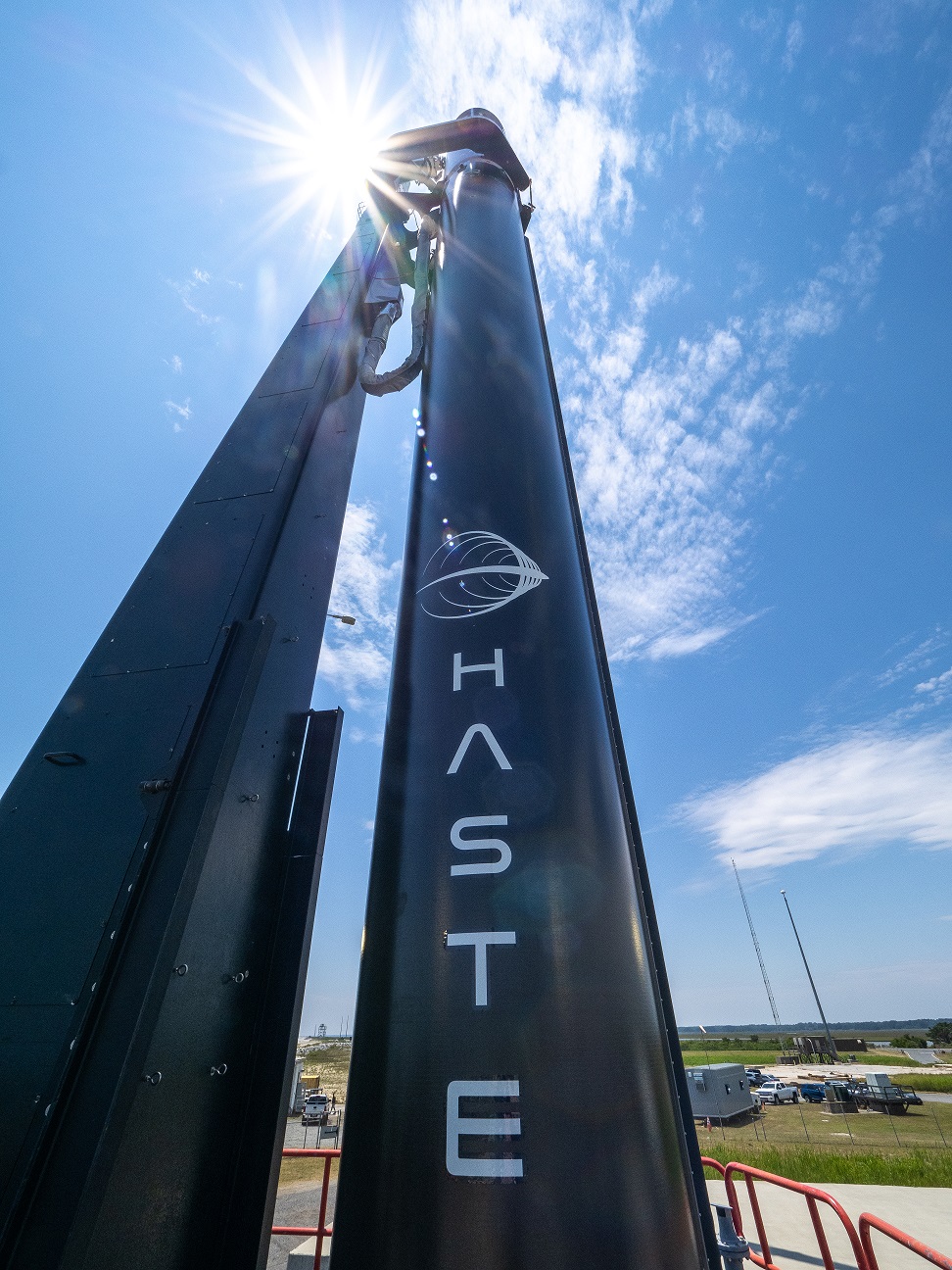 The new contract signed just days after Rocket Lab successfully launched the inaugural HASTE suborbital mission, marking a new era of rapid hypersonic technology development opportunities
Long Beach, California. August 8, 2023 – Rocket Lab USA, Inc. (Nasdaq: RKLB) ("Rocket Lab" or "the Company"), a global leader in launch services and space systems, today announced it has signed a new launch services agreement with a confidential customer for a HASTE (Hypersonic Accelerator Suborbital Test Electron) mission from Launch Complex 2 at Virginia's Mid-Atlantic Regional Spaceport within NASA's Wallops Flight Facility in 2024.
The contract signing with a new customer came just days after Rocket Lab successfully launched the first HASTE mission on 17 June 2023 for Leidos under the Multi-Service Advanced Capability Hypersonic Test Bed (MACH-TB) program. The mission was Rocket Lab's third mission from Launch Complex 2 at Virginia's Mid-Atlantic Regional Spaceport since the Company began launches form U.S. soil in January this year, demonstrating rapid and reliable launch capability for government and commercial programs.
"After delivering mission success with our HASTE launch in June, we're delighted to be selected once again to deliver this crucial capability, enabling our customers to accelerate hypersonic innovation," said Brian Rogers, Senior Director – Global Launch Services. "We're immensely proud to be delivering a vital capability to the nation by increasing the cadence and availability of hypersonic and suborbital flight testing to enable technology maturation."
Rocket Lab's HASTE suborbital launch vehicle is derived from the Company's workhorse Electron rocket – the world's most frequently launched commercial small launch vehicle. Leveraging Electron's deep flight heritage, HASTE offers true commercial testing capability on rapid schedules and at a fraction of the cost of current full-scale tests. Tailored specifically for suborbital and hypersonic test flight capability, HASTE has a modified Kick Stage, a larger payload capacity of up to 700 kg / 1,540 lbs, and options for tailored fairings to accommodate larger payloads.
HASTE is operated under Rocket Lab National Security (RLNS), the Company's wholly owned subsidiary created to serve the unique needs of the U.S. defense and intelligence community and its allies. For more information about HASTE, visit rocketlabusa.com/launch/haste.
ENDS
+ FORWARD LOOKING STATEMENTS
This press release may contain certain "forward-looking statements" within the meaning of the Private Securities Litigation Reform Act of 1995, Section 27A of the Securities Act of 1933, as amended, and Section 21E of the Securities Exchange Act of 1934, as amended. These forward-looking statements are based on Rocket Lab's current expectations and beliefs concerning future developments and their potential effects. These forward-looking statements involve a number of risks, uncertainties (many of which are beyond Rocket Lab's control), or other assumptions that may cause actual results or performance to be materially different from those expressed or implied by these forward-looking statements. Many factors could cause actual future events to differ materially from the forward-looking statements in this press release, including risks related to delays and disruptions in expansion efforts; our dependence on a limited number of customers; the harsh and unpredictable environment of space in which our products operate which could adversely affect our launch vehicle and spacecraft; increased congestion from the proliferation of low Earth orbit constellations which could materially increase the risk of potential collision with space debris or another spacecraft and limit or impair our launch flexibility and/or access to our own orbital slots; increased competition in our industry due in part to rapid technological development and decreasing costs; technological change in our industry which we may not be able to keep up with or which may render our services uncompetitive; average selling price trends; failure of our launch vehicles, spacecraft and components to operate as intended either due to our error in design in production or through no fault of our own; launch schedule disruptions; supply chain disruptions, product delays or failures; design and engineering flaws; launch failures; natural disasters and epidemics or pandemics, including COVID-19; changes in governmental regulations including with respect to trade and export restrictions, or in the status of our regulatory approvals or applications; or other events that force us to cancel or reschedule launches, including customer contractual rescheduling and termination rights; risks that acquisitions may not be completed on the anticipated time frame or at all or do not achieve the anticipated benefits and results; and the other risks detailed from time to time in Rocket Lab's filings with the Securities and Exchange Commission (the "SEC"), including under the heading "Risk Factors" in Rocket Lab's Annual Report on Form 10-K for the fiscal year ended December 31, 2022, which was filed with the SEC on March 7, 2023, and elsewhere (including that the impact of the COVID-19 pandemic may also exacerbate the risks discussed therein). There can be no assurance that the future developments affecting Rocket Lab will be those that we have anticipated. Except as required by law, Rocket Lab is not undertaking any obligation to update or revise any forward-looking statements whether as a result of new information, future events or otherwise.