Rocket Lab Sets Next Electron Launch Window, Provides Update on Anomaly Review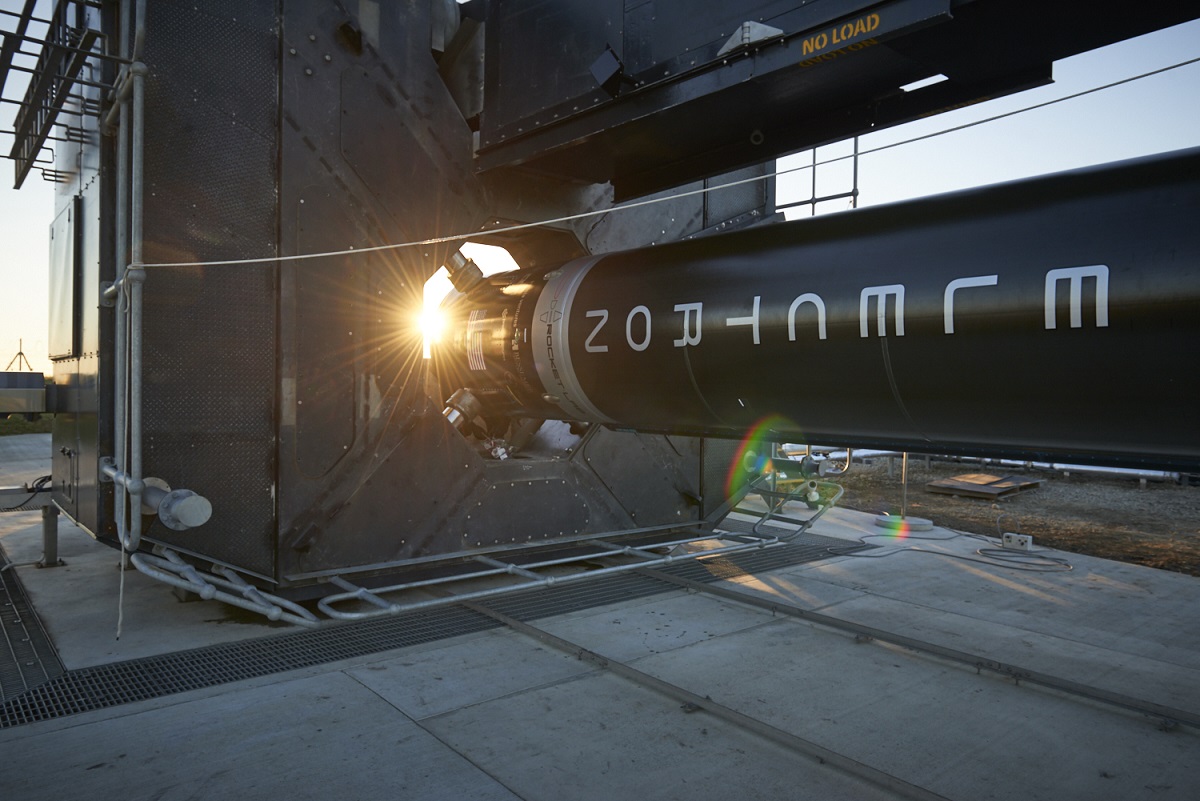 Long Beach, California. November 8, 2023 - Rocket Lab USA, Inc. (Nasdaq: RKLB) ("Rocket Lab" or "the Company"), a global leader in launch services and space systems, today announced it has set a return to launch window for its Electron launch vehicle.
Rocket Lab will return to the pad at Launch Complex 1 with a dedicated Electron mission for Japan-based Earth imaging company iQPS (Institute for Q-shu Pioneers of Space, Inc.) during a launch window which opens on November 28th, 2023 and extends into December.
The resumption of Electron launches comes as Rocket Lab approaches the conclusion of an extensive review into the cause of the anomaly that resulted in the loss of its 41st Electron mission launched on September 19th, 2023. The anomaly occurred after 20 consecutive successful orbital missions and 37 successful Electron missions overall for government and commercial satellite operators, with 171 satellites deployed to orbit.
The September 19th mission completed lift-off, clearance through Max Q, and stage separation between the rocket's first and second stage. At 151 seconds into the mission, high voltage from the second stage's power supply system anomalously fell sharply. In less than a second, the stage experienced a total loss of power and was unable to reach orbital velocity to deliver the mission's payload, subsequently re-entering the atmosphere and ending the mission. In accordance with Rocket Lab's safety protocols, public safety was not affected.
After more than seven weeks of extensive analysis of the mission's manufacturing, test, and flight data, the findings of the investigation overwhelmingly indicate that an unexpected electrical arc occurred within the power supply system that provides high voltage to the Rutherford engine's motor controllers, shorting the battery packs that provide power to the launch vehicle's second stage.
Exhaustive testing and analysis to recreate this failure mode has led to the investigation team's determination that the arc was likely only made possible by the rare interaction of multiple conditions. Any one of these factors on their own would likely not have caused the failure of the second stage, but when they occur simultaneously in the low-pressure environment of space, they reach the threshold dictated by Paschen's Law for an arc to form and travel. Paschen's Law is an equation that breaks down the relationship between voltage, pressure environment, distance between electrodes, and presence of gas necessary for an electrical arc to form and travel.
Three rare conditions had to present simultaneously in the low-pressure space environment to reach the threshold for arcing under Paschen's Law, including:
A superimposed alternating current (AC) with the direct current (DC) high-voltage electricity provided to the stage's power supply system, that is produced as a ripple voltage from the system's engine motor controllers;
A small concentration of helium and nitrogen gasses that were present within the interstage between Electron's first and second stages; and
An imperceptible fault in the insulation of the high voltage loom within the power supply system.
These factors combined, including electricity in the presence of both helium and nitrogen, while under a partial pressure environment, unrestrained by a fault in the high voltage loom, and exacerbated by an alternating current, aligned at a point on the Paschen curve that allows an electrical arc to form and travel.
This highly complex set of conditions is extremely difficult to predict and test for on Earth, even in simulated space conditions. To ensure the fault does not present again, Rocket Lab is implementing two key corrective measures -- one designed to improve testing on the ground and another to eliminate the possibility of comparable arcs occurring in flight should similar faults evade the new enhanced testing process.
While pre-launch testing of the second stage's power supply system already covers the full range of its operational parameters including pressure, ionization levels, and voltage, the enhanced test routine will now account for even harsher conditions than those experienced in space, including increasing test-to-flight margins and flight-representative voltage waveforms.
As an additional redundancy feature, Rocket Lab has modified Electron's battery frame section which houses the high voltage power supply system to enable it to maintain optimum gaseous pressure from launch through to stage separation from Electron's Kick Stage. Pressurizing this section significantly reduces the ability for arcs to form.
Rocket Lab founder and CEO Peter Beck said: "This is a highly complex, improbable, and evasive issue that the team has been relentless in investigating and fixing so we can put an even better vehicle back on the pad. We are grateful to our customers and the FAA for their continued support through this thorough investigation process. Thank you for your trust in our team. We look forward to returning to flight with corrective measures in place to provide the frequent and reliable access to orbit that the industry has come to depend on after 37 successful Electron missions."
Rocket Lab expects to formally close its anomaly investigation in the coming weeks. Rocket Lab has also already received authorization from the Federal Aviation Administration (FAA) to resume Electron launches from Launch Complex 1. Further details about the upcoming Electron launch will be shared closer to launch day.
+ Rocket Lab Media Contact

Murielle Baker
media@rocketlabusa.com
+ About Rocket Lab
Founded in 2006, Rocket Lab is an end-to-end space company with an established track record of mission success. We deliver reliable launch services, satellite manufacture, spacecraft components, and on-orbit management solutions that make it faster, easier, and more affordable to access space. Headquartered in Long Beach, California, Rocket Lab designs and manufactures the Electron small orbital launch vehicle, the Photon satellite platform, and the Company is developing the large Neutron launch vehicle for constellation deployment. Since its first orbital launch in January 2018, Rocket Lab's Electron launch vehicle has become the second most frequently launched U.S. rocket annually and has delivered 171 satellites to orbit for private and public sector organizations, enabling operations in national security, scientific research, space debris mitigation, Earth observation, climate monitoring, and communications. Rocket Lab's Photon spacecraft platform has been selected to support NASA missions to the Moon and Mars, as well as the first private commercial mission to Venus. Rocket Lab has three launch pads at two launch sites, including two launch pads at a private orbital launch site located in New Zealand and a third launch pad in Virginia. To learn more, visit www.rocketlabusa.com.
+ Forward Looking Statements
This press release contains forward-looking statements within the meaning of the Private Securities Litigation Reform Act of 1995. We intend such forward-looking statements to be covered by the safe harbor provisions for forward looking statements contained in Section 27A of the Securities Act of 1933, as amended (the "Securities Act") and Section 21E of the Securities Exchange Act of 1934, as amended (the "Exchange Act"). All statements contained in this press release other than statements of historical fact, including, without limitation, statements regarding our launch and space systems operation, launch schedule and window, safe and repeatable access to space, Neutron development, operational expansion and business strategy are forward-looking statements. All statements contained in this press release other than statements of historical fact, including, without limitation, statements regarding our launch and space systems operation, launch schedule and window, safe and repeatable access to space, Neutron development, operational expansion, business strategy, and expectations relating to our financial condition, results of operations, plans, objectives and future performance are forward-looking statements. The words "believe," "may," "will," "estimate," "potential," "continue," "anticipate," "intend," "expect," "strategy," "future," "could," "would," "project," "plan," "target," and similar expressions are intended to identify forward-looking statements, though not all forward-looking statements use these words or expressions. These statements are neither promises nor guarantees, but involve known and unknown risks, uncertainties and other important factors that may cause our actual results, performance or achievements to be materially different from any future results, performance or achievements expressed or implied by the forward-looking statements, including but not limited to the factors, risks and uncertainties included in our Annual Report on Form 10-K for the fiscal year ended December 31, 2022, as such factors may be updated from time to time in our other filings with the Securities and Exchange Commission (the "SEC"), accessible on the SEC's website at www.sec.gov and the Investor Relations section of our website at www.rocketlabusa.com, which could cause our actual results to differ materially from those indicated by the forward-looking statements made in this press release. Any such forward-looking statements represent management's estimates as of the date of this press release. While we may elect to update such forward-looking statements at some point in the future, we disclaim any obligation to do so, even if subsequent events cause our views to change.