It Argos Up From Here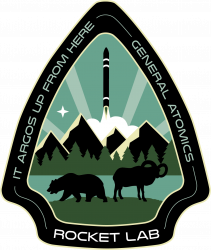 Mission Name

It Argos Up From Here

Rocket

Electron

Electron Name

It Argos Up From Here
Launch Date

7 October 2022

Launch Time

17:09 UTC

Launch Site

Launch Complex 1
Mission Overview
The "It Argos Up From Here" mission launched the General Atomics Electromagnetic Systems designed and manufactured satellite carrying the Argos-4 Advanced Data Collection System (A-DCS) hosted payload. The A-DCS mission is supported by the National Oceanic and Atmospheric Administration (NOAA) Cooperative Data and Rescue Services Program, which arranged the launch through the Hosted Payload Solutions contract vehicle administered by the U.S. Space Force's Space Systems Command.
This dedicated mission for General Atomics launched the GAzelle satellite carrying Argos-4 from Pad B at Launch Complex 1.
Press Kit
Launch Updates
For real time launch updates, follow Rocket Lab on Twitter and Facebook.